The future of


male masturbation.

FLIP HOLE RED - Delicate details entangle you for a whole new sensation! Densely packed protrusions brush along as they entangle you. A stream of smoothly formed ribs gently tickle your glans. Ribs aligned in a fan-shape sector amplify the stimulation.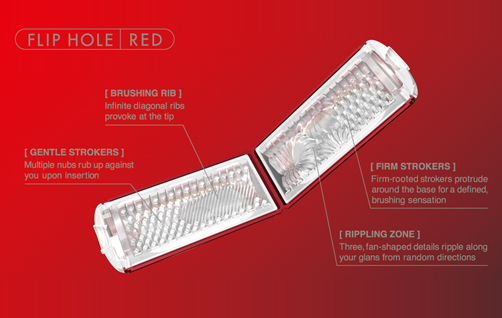 FLIP HOLE SILVER - Tightly packed, firm edges provoke a bounding stimulation! A strong squeeze is delivered from the firm passage of edges. The firm elastomer provides a rebounding sensation from its walls. Envelop yourself in a maze of planes and edges for a strong, smooth sensation.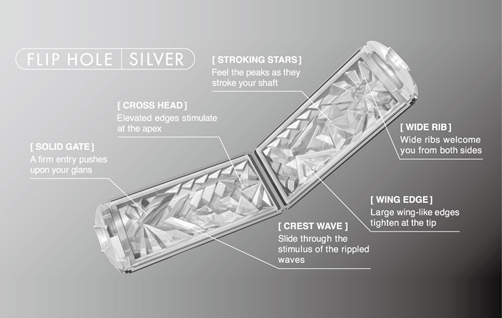 FLIP HOLE WHITE - No headaches. No PMS. No visiting the in-laws. And it's always around. It just doesn't get any better than FLIP HOLE. This masturbation tool creates a better-than-sex experience with all of its nubs, orbs, holes, and textures. It squeezes and sucks in all the right ways. With three intesnity-controlling buttons, FLIP HOLE lets you have it how you want it, whenever you want it.

FLIP HOLE BLACK takes FLIP HOLE to a new extreme. With a whole new interior design full of bumps, grooves, orbs, and realistic textures, FLIP HOLE BLACK will leave you wanting more and more. Three intensity-controlling pads make the sucking and squeezing sensations of FLIP HOLE BLACK a unique experience every time. Best of all, FLIP HOLE BLACK is easy to use, clean, and hides in plain sight.